Results
2014 runningchunk.com 5K Results
Race Information
The fourth annual runningchunk.com 5K will be held Saturday, September 27, 2014. By unpopular demand, this year's 3.1-mile course is in beautiful West-ish Central Houghton. Start time is 11:30 AM at Bill's B&B Bar at 4th St and M-26. Prepare to traverse a tunnel, dodge strolling grannies, cross a US highway, and climb a ridiculous hill. This is the price you pay for a scenic, urban course not at a sewage lagoon.
Note: The word "race" on this page should be taken to mean "not a race". This is a self-supported, unofficial group run. Please don't sue me.
Entry is free of charge. The first three finishers will receive a fine domestic beer carefully chosen by the race organizer. The remaining finishers will receive a beer carelessly chosen by the race organizer.
More Race Information
Fastest time (Lake Linden course): Dave McCloud (26:02)
Enter the Race
Register by filling out this form, taking a photo of it, printing it out, writing on it, scanning it, and emailing it to me as a Windows Metafile (WMF).
Current Entrants
These brave souls entered so far.
Josh
Nancy
Amy
Bryant
AnnKW
Colin
Kristin
Jimmer
Zoë
G
Steve
Kelly
Danno*
Kiwi
Kristi
Swag
Buy a handsome yet whimsical hat! To hold down your hair!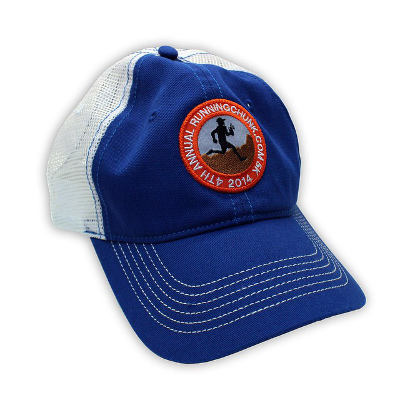 $18 each delivered on race day. Please order by Monday, September 15.
Special Thanks
team /var/run
People's Front of Superior
The Internet
office supplies stolen from Michigan Technological University
Inferior Timing